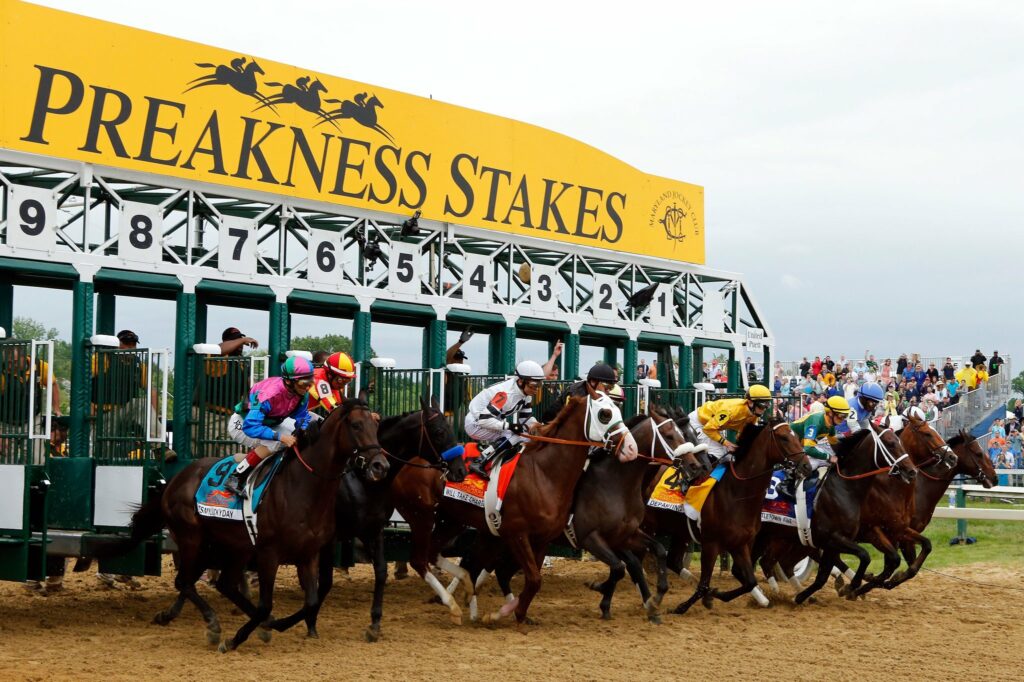 144th Running of the Preakness Stakes today at Pimlico Race Course. Race runs at 6:48pm tonight as Race 13 on the Pimlico card. NBC will cover the race on TV. My photo pays tribute to Prairie Bayou – the 1993 Winner of the Preakness – ridden my Mike Smith. Less than an hour after being married – I held up the picture taking of my wedding party to watch Prairie's Win……Hey, Priorities! My poor wife.
Weak edition of the second jewel of Racing's Triple Crown. None of the top four finishers are returning for this race. The Preakness is slightly shorter than both the Derby and the Belmont Stakes. Tradition is on the side of a horse that ran in the Derby, but I'm bucking that trend today with my selections. The horses returning are #1 War of Will, #4 Imporopable, #9 Bodexpress, and #13 Win Win Win.
Of the list above – the 1 & 4 are going to go off at low odds and are legit contenders to win this race. #4 Improbable is trained by Bob Baffert who has captured the Preakness 7 times. This horse is a grinder and will be sitting close. Mike Smith is along for the ride. Horse is 0-3 this year. I cannot endorse on top as the betting favorite. I think 2nd or 3rd is more likely, but I'd love him off the board. #1 War of Will was my Kentucky Derby choice at 20-1. This horse was aided by the slop last time. His jockey put him in a bad spot and then was fouled by the eventual winner. This is two races in a row that this horse found trouble. Like an expression we use in following baseball: "Injured players seem to always get hurt" – Jed Lowrie, Mets fanes. Well, this horse finds trouble and is drawn on the fence again. He can beat me in the win spot at 4-1.
So,who do I like and why? I have a theme today. Brad Cox & the Ortiz Brothers. Looking for numbers: 2-3-5-12 …….this is where I have landed and I will try to explain why. Let me start with Brad Cox who sends out #3 Warriors Charge and #5 Owendale. Opposite running styles for sure. This track, plays well to the last move on the turn and benefits a racehorse coming down the center of the racetrack, The "Crown" of the track so to speak. Owendale demonstrated an electric turn of foot under jockey Florent Geroux in the Grade 3 Lexington Stakes at Keeneland. This is the kind of move that wins the Preakness. This horse is listed at 10-1 on the morning line and is my Top Choice to Win the 144th Preakness. Brad Cox also trains #3- Warriors Choice. Jockey is JJ Castellano who has been red hot. Mission is clear – go straight to the front and go Wire to Wire. The knock – Horse has a pure sprint Pedigree being by Munnings/Speightstown. But sometimes, a horse can outrun his pedigree. At 12-1, I think it will go higher, I want to be on the lead horse. Castellano can open up at the top of the lane and keep going. Brad Cox is a tremendous trainer and this could be his coming out party.
The other horse I'm high on is #12 Anothertwistoffate. He was favorite in the previously mentioned Lexington and ran a creditable 2nd to Owendale. Jose Ortiz hops aboard and will be sitting a great trip off the early leaders OR he could push to the top if others hold back. He will be forwardly placed and I see a big effort at 10-1. People will let him drift because of his post, but he has natural speed to overcome the post. Solid choice. He is my 2nd choice to Owendale.
#2 is Bourbon County ridden by Irad Ortiz Jr. Jockey with an excellent knack of getting a horse up just in time. This horse will rally from the back. I don't love Trainer Mark Hennig to win a classic race, but this horse could fall into the perfect trip. I like him solidly in the exotics. Distance will be no problem, but will he leave himself to much work to do in the lane? Trainer adds Blinkers ( equipment that helps a horse focus ) as this guy has a tendency to look around at the head of the stretch.
How to wager is your call. But this is my breakdown:
The 5-12 are my top picks, the 3 is a threat to go wire to wire. So my win choices are 5-12-3-2 in that order.
if you adding horses for second – the 1 & 4 are logicals. So, we have:
First: 5-12-3-2
Second 5-12-3-2-1-4
Third & Fourth: these are the longshots to fill out the Tri and Super wagers 7-8-9-11-13 of these horses, #11 – Laughing Fox could make for a nice single in the 3rd or 4th or 5th spot. If you are a tri player – key the #11 for 3rd, Super player – key the #11 in 4th, Super High Five ( see below ) 4th/5th
I believe the Super's are playable at .10 cents which could let you increase your total combinations. This is VERY important, the SUPER is an EXCELLENT PLAY – more combinations. Add and Subtract as you wish – but swing for the fences.
The Super High Five requires a $1 minimum. HUGE payoffs if correct. You must take a stand with at least one or two singles in the five spots. A bet best shared with a group – are you listening Scott K out in Vegas?
My Super High 5 play – for kicks
I'm keying the 5 & 12 on top in my $1 wager at a cost of $560 with my SINGLE being in the 4th or 5th spot – #11 Laughing Fox.
Looks like this: $1 Super High Five $560 wager
5 & 12 with
1-2-3-4-5-12 with
1-2-3-4-5-7-8-9-12-13 with
1-2-3-4-5-7-8-9-12-13 with
11
Now, flip flop the #11 into the 4th position while dropping the 1-2-3-4-5-7-8-9-12-13 for another $560. Total wager is $1020. If we are right – you will get a lifetime score. Ten friends at $100 each, 20 friends at $50 apiece..
Good luck, enjoy the race. Special thanks to my buddy Jeff Dawson and all his East Coast Sports ( ECSI ) friends that are reading